Timestar Magician x3 NM 1st Ed YuGiOh PEVO 009 Pendulum Evolution TCG Ultra Rare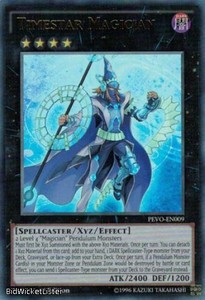 ---
ANOTHER QUALITY STRIKEZONEONLINE STORE LISTING   Bid with confidence.Strike Zone has been in business 28 years and on for 20 years. You are bidding on: 3x Yu-Gi-Oh - Pendulum Evolution - Timestar Magician #009 Near Mint Normal 1st Edition English   Condition and Language: Look in title of item for language and condition defined below.  

Near Mint is a clean card with minor if any imperfections such as a white dot or tiny nick.

Light Play is one grade below Near Mint and shows slight play, but overall a very nice card just short of being called near mint.

Meium Play is moderately played but is still tournament legal.

Heavy Play is a grade below Medium Play and shows moderate to heavy play, but is still tournament legal in a sleeve.

 

Stock Pictures are used. Items are as described in the condition section. We have thousands of items coming in and going out each day. There is no way to take a picture of any specific item we have at any given time. I am sorry we can not provide detailed and exact picturs of these fungible items that are constantly moving in and out of stock and have multiple copies of each item avaialble at times. We will not be able to answer all of the picture request.   Shipping(Please read completely)   Domestic shipping is free 1ST CLASS MAIL packed in top loaders fully protected in envelope. This does not come with tracking of any kind. It does have a letter destination confirm number which does not provide tracking but proof of delivery only through endicia tracking not usps. The number will not update tracking details. We may at our discretion require signiture on expensive orders or items to protect both buyer and seller. Shipping Outside the United States.

Use .com. Do not use .ca or .de or any other other than .com. The cart system on those sites do not combine shipping properly.

Each additional item is free after the first item shipping charge. Also, please understand that due to customs and slower foreign mail in your home country, mail can take up to 40-50 plus days. Most foreign (90%) shipments take 7-10 days, but we have many each week that take anywhere from 10-50 days. Please be patient as we cant control foreign mail speeds and customs clearance times. When you get your package, you will see we mailed the item on time and it is with your  country's mail an customs systems that the delay rests. THERE IS NO TRACKING ON SHIPMENTS OUTSIDE THE UNITED STATES, SO PLEASE DONT ASK FOR A TRACKING NUMBER.     PLEASE MAKE SURE YOUR PAYPAL ADDRESS IS CURRENT BEFORE PAYING. WE WILL NOT BE RESPONSIBLE FOR SHIPPING TO YOUR OLD PAYPAL ADDRESS IF YOU DONT MAKE SURE IT IS CORRECT WHEN PAYING.  
Most shipments ship the next business day after payment, but please allow up to 2-3 business days after receipt of your PayPal payment depending on sales volume and time of year.
  Please do not message with counter offers. We need to get posted price and can not respond to those who wish to offer us less for items.   We fill out all customs forms fully, properly, and truthfully. All customs and duties are the responsibility of the buyer.